Taupo
Taupo and the surrounding region offer landscapes created by past volcanic upheavals. Situated in the centre of the North Island, it is one of New Zealand's fastest growing provincial regions. This is largely due to the range of outdoor adventure activities. As Queenstown is the South Island and New Zealand adventure capital, Taupo is currently recognised as the adventure capital of the North Island.
The main attraction of the Taupo region is the 600 sq km Lake Taupo, which feeds into NZ's longest river, the Waikato River. Here the outflow of the lake gives rise to the Huka Falls. Lake Taupo is the setting for a wide range of water pursuits; of which is fishing is the most popular. Internationally famous for its rich stocks of brown and rainbow trout, anglers arrive from all over the world to make the most from excellent year round fishing conditions. You will always find a boat to hire. All manner of water sports can be enjoyed on the lake Go for a jet boat ride or take advantage of the white water rafting, windsurfing, jet skiing, parasailing, water-skiing and kayaking opportunities available.
Why not try bungy jumping from a platform 45 metres above the Waikato River. Tandem sky diving from out of an aircraft is another exhilarating option. These are just some other options while you are in the Taupo region, a 4x4 tour, motor biking, horse trekking, hiking, mountain biking, skiing, snowboarding, abseiling and rock climbing.
South of Lake Taupo lies the Tongariro National Park, home of the North Island's finest ski fields. In 1991, the park was awarded the honour of world heritage status for its natural and cultural values. The volcanoes Mt Ruapehu, Mt Ngauruhoe and Mt Tongariro form the heart of the park, and always look good with Lake Taupo in front.
South end of Lake Taupo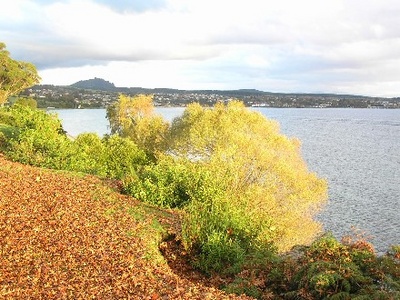 In the centre of the North Island and 80kms south of Rotorua lies the holiday resort of Taupo and New Zealand's largest lake, Lake Taupo.
Lake Taupo is 160 metres deep and is the largest fresh water lake in the Southern Hemisphere. You must go on a sightseeing cruise. Luxurious Cruises and Fishing Charters are a great way to check out Lake Taupo. Rainbow and Brown trout are in abundance and the fishing season is all-year-round. Trout fishing and swimming in the crystal clear waters are popular among the locals and visitors alike. The Tongariro River is where you will experience a unique fly-fishing adventure, for wild Rainbow and Brown Trout; famous worldwide this unique fishery is an angler's paradise.
Mt Ruapahu in the background of Lake Taupo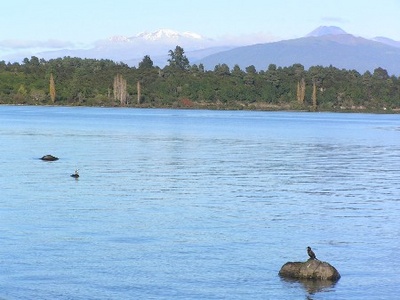 Lake Taupo is 2,000 years old and was born out of a huge volcanic eruption. The ash from this eruption could be seen in the sunsets as far away as Europe.
In Maori legend, the chief priest of the Arawa people, Ngatoirangi, was shocked and dismayed when he saw an empty crater. Knowing that his people needed resources that the region could not provide, he plucked from the earth a large totara tree and threw it into the basin where it landed on its branches and pierced the earth. Water filtered through the holes and formed Lake Taupo.
The Huka Falls are just 5 minutes from the Taupo Township, where you can see the sights from a helicopter or take a ride on the Huka Jet. Then after your jet boat ride bungy-jump 47 metres off the cliff-tops against a beautiful backdrop. Then to relax take a river cruise on the waters of the Waikato River.
The winter offers skiing on the nearby slopes of Mount Ruapehu. Whakapapa is on the northeasterly slopes of Mt. Ruapehu. It is New Zealand's biggest and busiest ski area. It has a total skiing area of 400ha; it has a total of 43 runs ranging from beginner, to off piste expert.
Tandem Skydiving in Taupo
For decades, the soothing healing mineral waters and pure nature surrounding Taupo has attracted travellers. The Hot Springs Spa in the Central North Island resort town of Lake Taupo is a must do. This is one of New Zealand's icon tourism attractions. The healing waters from this spa are known to be very therapeutic for such ailments as stomach and intestinal disorders, arthritis, women's problems, skin irritations, rheumatism, neuralgia, and cuts & bruises.
Taupo offers the Hot Bus for the traveller new to the area, why not take a ride. It is a fun sightseeing shuttle that returns every hour allowing the visitor freedom to interact with New Zealand's most natural and visited attractions. Other activities in the area include mountain biking, trekking, jet-boating, hunting, hot air ballooning, parasailing and white-water rafting.
Enjoy them all and more in the Taupo region.
Taupo Map
Taupos climate:
Average Summer temperature; 22c
Warmest months; December to March
Average Winter temperature; 12c
Average Hours of sunshine per year; 1965hrs
Average annual rainfall; 1100mm
Popular Taupo activities
Sports events such as New Zealand Ironman, the round LakeTaupo running relay and Lake Taupo cycle
Trout fishing in the area
Tramp the Tongariro Crossing and discover volcanic steam vents and lava formations
Skiing at one of Mt Ruapehus three ski fields
Visit the Huka Falls
A geothermal walk in Taupo and discover active thermal areas with mudpools, steam and geysers
Key Features

Australasia's largest lake
Lake Taupo was created by a gigantic volcanic eruption in 181AD. At 616 square kilometres, it is as big as Singapore Island. The lake's attractive pumice sand beaches give it the appearance of an inland ocean.

An intriguing geothermal landscape
Over thousands of years, volcanic action has created a landscape of simmering craters, boiling mud pools, fumaroles and steam vents. Maori mythology is richly interwoven with the geothermal features of the region.

Year-round trout fishing
Rainbow and brown trout were liberated in Lake Taupo more than 100 years ago. Open for fishing 12 months a year, the lake and its adjoining rivers represent one of the last true wild trout fisheries in the world.

Key Tips

Lake Taupo township is located on State Highway 1, midway between Auckland and Wellington.
Lake Taupo's central location makes it an ideal base for exploring the attractions of the Central North Island.
Be adventurous – Lake Taupo has the largest tandem skydiving drop zone in the world, and other thrills abound.
Bring your walking shoes and explore geothermal areas, mountains and forests steeped in Maori folklore.


LAKE TAUPO


Population: 31,500
Area: 6,970 km2
Lake Area: 616 km2
Reviews / Comments for Taupo
No reviews have been written write a review now.

Back to top

---