Wanaka
Wanaka is a town in the Central Otago region of the South Island of New Zealand It is situated at the southern end of Lake Wanaka adjacent to the outflow of the lake to the Clutha River. It is the gateway to Mount Aspiring National Park Wanaka is primarily a resort town with numbers of residents swelling over the Christmas New Years time from around 6000 to 30000. Both summer and winter seasons are based around the many outdoor opportunities. Due to the growing tourism business and the increasing number of retirees in Wanaka, there is massive growth occurring, up to 50% in 10 years.
Wanaka has four distinct seasons with hot dry summers and cold dry winters. The summer days average around 24°C but gets up to the mid 30s. Winter averages around 10°C
The town is part of the Queenstown-Lakes District and was originally settled during the gold rush excitement in the 19th century.
These days, with its beautiful lake and mountain views, Wanaka has become a popular tourist resort, loved by many for being less commercialised than Queenstown
There are many fun things to do in Wanaka, from Puzzle World, mountain biking to jet boat riding and visiting the little cinema Paradiso for food and a movie.
In the winter skiers and snowboarders alike head to Wanaka for the quailty of Treble Cone, Cadrona Ski fields and Snowpark which is a dedicated 100% man made terrain park for advanced riders. While in the Cardrona Valley visit the historic Cardrona Hotel.
Lake Wanaka itself is popular for WaterSkiing, Wakeboarding and Sailing. This along with the local rivers provide many opportunities for fishing.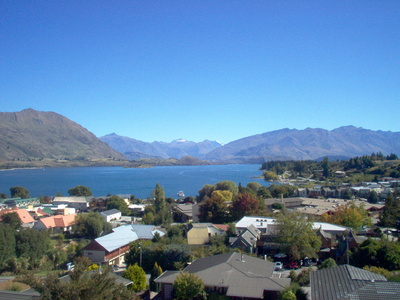 Wanaka, looking across the town and down Lake Wanaka
Wanaka Map.
Getting to Wanaka.
Air New Zealand has daily flights from Christchurch. If you drive it's around a 5 hour drive from Christchurch and a 3/4 of an hour drive from Queenstown.
Reviews / Comments for Wanaka
No reviews have been written write a review now.

Back to top

---