Northland
Northland is a main player in New Zealand's early history, with many important historic sites and beautiful scenery. Northland is a region distinguished by its eventful past and landscape. Waitangi lies just outside of Paihia where the Treaty of Waitangi was signed between the Maori and Europeans, in 1840 and New Zealand, as we know it today was born. The Waitangi Treaty House is now a national museum.
Northland provides a warm climate year round great for enjoying Northlands native forests, unspoiled beaches, sheltered bays and inlets with great off shore islands. A popular attraction of Northland is the Kauri Coast, where the massive Kauri forests are all but gone now, but the Waipoua Kauri Forest has untouched Kauri stands and is the best place in NZ to see these magnificent trees.
The Bay of Islands on the east coast is Northland's most popular tourist attraction. Many travellers make sure they visit this area. Northland has a maritime park with lovely sheltered bays and 144 islands, the area is an aquatic playground which offers some of the best boating and game fishing to be found anywhere in New Zealand and the world, with marlin, mako and yellowtail being the prize catch. Swimming with the dolphins is also not to be missed in Northland.
Northland Scenic Drive View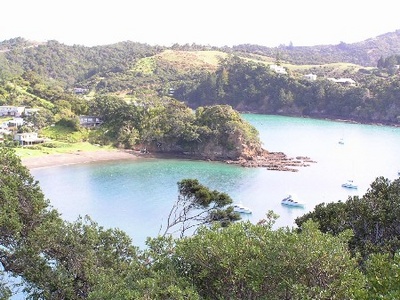 Northland has an abundance of fresh local produce, a wide variety of seafood and award-winning local wines. These are all combined in Pacific Rim cuisine, which wins approval from the most sophisticated travellers. Northland is well known for its food and wine trails, on one of these trails you would end up visiting the country's northern most vineyard at Kaitaia. Most Northland wineries offer coastal views and cafes' which, combine Mediterranean ambience with a distinctive New Zealand flavour.
Northland has some great locally made gourmet food ranges from a local speciality macadamia liqueur, handmade chocolates, avocado and olive oils, award-winning cheeses, fruit wines, jams, chutneys and pickles - not to mention Northland's answer to Tabasco, 'Kaitaia Fire'. This must be tried.
Mangawhai Heads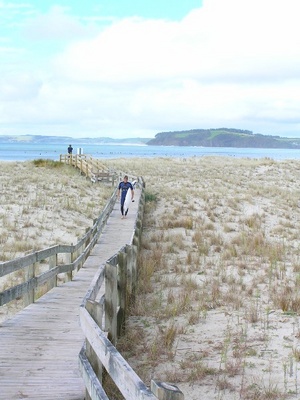 Northland is an artists haven with a number of celebrated artists and crafts people, some internationally known who work here. Visits to their studios and galleries can be combined into the wonderful food and wine trails of the northland region.
Sand Surfing Northland New Zealand
Northland Climate:
Average summer temperature; 23.5c
Warmest months; December to March
Average winter temperature; 15c
Average hours of sunshine per year; 2016hrs
Average annual rainfall; 1500mm
Popular activities
Gamefishing charter at Russell or Whangaroa, or a cruise boat from paihia.
Visit Waitangi Estate, where the treaty of Waitangi was signed in 1840.
Visit Kerikeri for some arts and crafts.
Dune surfing on the sand dunes of the Hokianga Heads.
A bus ride along 90 mile beach NZ's longest beach.
Visit museums, specialist shops and art galleries in Whangarei.
Key Features

The birthplace of a nation
History has always been made in Northland. The Hokianga Harbour was the first Polynesian landing place, Russell was New Zealand's first capital and the Treaty of Waitangi was signed in the Bay of Islands.

Beaches and islands
You can't escape the ocean in subtropical Northland - nor would you want to. Sail around the Bay of Islands, swim with dolphins, dive a wreck or snooze under the pohutukawa trees.

All kinds of indulgence
Fine wine, gourmet food, world class golf, sumptuous spas and luxury lodges – these are passions that Northland understands. For travellers who want to pack more pleasure into their holiday, the sky's the limit.

Key Tips

Follow the Twin Coast Discovery Highway – a circular touring route - and explore some of the linked tourist drives.
Regular domestic air services connect to Northland's three airports - Whangarei, Kerikeri and Kaitaia.
To make the most of the bays and beaches, explore Northland by rental car or campervan.
If you want to see the countryside on your way north, but don't want to drive, catch a coach from Auckland.


NORTHLAND


Population: 150,000
Area: 12,600km2
Reviews / Comments for Northland
Rating Averages
Back to top

---