Wellington
Wellington is New Zealand's capital. The earliest name for Wellington, from Maori legend, is Te Upoko o te Ika a Maui. In Maori it means "the head of Maui's fish". Caught and pulled to the surface by Polynesian navigator Maui, the fish became the North Island. In 1842 Wellington became the first Borough created in New Zealand.
Surrounded by the rolling hills and Wellington harbour, Wellington is an interesting and compact city. The seat of New Zealand's Government and administration, it offers a unique blend of heritage and culture, cafes and restaurants, shopping and nightlife, all within the compact city, an easy stroll of each other. With Wellington being only 2kms wide the walking is easy.
Wellington has a great range of attractions on offer. Home to Te Papa (New Zealand's National Museum) and New Zealand's Parliament, Wellington is renowned for its heritage and cultural attractions with events and festivals all year round.
Wellington is the hub of an area known as Centre Stage of New Zealand including Wairarapa, Nelson and Marlborough. These comprise some of the best wineries, boutique rural retreats and natural heritage walkways in New Zealand.
Wellington, New Zealand's capital, (population 346,000), set on the shores of a deep harbour and surrounded by a natural amphitheatre of green wooded hills. It is New Zealand's weekend destination and has the most vibrant entertainment district in New Zealand. In Wellington you will find some of the best bars, cafes, restaurants and theatres. Wellington boasts a diverse mix of shops. With a host of fashion stores, the city offers some of New Zealand's best shopping opportunities.
Wellington has around 400 cafes and restaurants; Wellington's inner city has the highest concentration of eating establishments in New Zealand, earning it the name 'cafe capital of New Zealand'. Wellington is home to the Royal New Zealand Ballet and the New Zealand Symphony Orchestra, as well as national dance, drama, opera and musical groups. Four professional theatres operate year-round, so there are live shows every night. Wellington is also the home of much New Zealand heritage, including Te Papa, New Zealand's national, leading edge museum. Te Papa is located on the waterfront and is an easy walk from the centre of the city
Only 45 minutes by car or rail from Wellington, Kapiti Coast is the recreational playground for the lower North Island, with both beaches and mountains readily accessible. Choose from white water rafting, safe swimming, boating, hunting and hiking, golfing, horse trekking and bush walks.
An interesting experience is the Cuba Street Quarter, renowned for its coffee bars; Cuba Street is old Wellington town, with verandas over the pavement and its varied and interesting old world feel.
Wellington is the arts and culture capital of New Zealand. Festivals and events are held here throughout the year. A highlight is the bi-annual New Zealand International Arts Festival, this is a month long arts festival.
A place of interest in Wellington is the Embassy Theatre, restored for the World Premiere festivities for The Lord of the Rings, The Return of the King. This theatre is a must see for those on a cultural pilgrimage. This is Middle Earth; Wellington was the main filming and production location for The Lord of the Rings Trilogy.
By day or night a harbour cruise is a good way to take a different look at Wellington.
If you would like to see some of Wellingtons nature a guided tour of the Karori Wildlife Sanctuary is a must do. Experienced guides help visitors spot our special birds and are very knowledgeable about bird and plant species.
Wellington Rover offers a 'hop-on hop-off' sightseeing service around Wellington City and now includes the Karori Wildlife Sanctuary on its list of options for passengers to explore. A Karori Wildlife Rover pass provides return transport from the Wellington Visitor Centre, in Wakefield Street to the Sanctuary at various times during the day.
Wellington
The Sanctuary offers a wide range of walking tracks, suitable for all ages. Visitors are free to wander at their own pace and are encouraged to ask the roving guides questions about the Sanctuary and seek advice on tracks and trails.
The Wellington region (including Kapiti, Porirua, Hutt Valley and Wairarapa) has the third highest population, containing 11.3% of New Zealand's population.
Wellington is a diverse interesting city and if you have time enjoy a game of rugby at "The Cake Tin".
Wellington Map
Wellington's climate:
Average Summer temperature; 19.6c
Warmest months; January to March
Average Winter temperature; 11.8c
Average Hours of sunshine per year; 2065hrs
Average annual rainfall; 1400mm
Popular Wellington activities
Visit Moreporks at Shannon's Owlcatraz sanctuary
See the Dune lakes (Papaitonga and Horowhenua) near Levin
Visit the west coast of Waikawa, Hokio and Foxton beaches
Look over the Kapiti coast from Paekakariki Hill
Walk through Wellington's green belt to the 360-degree view of the city
Tour New Zealand's Parliament Buildings
Ride a cable car up the Kilburn Incline and walk around the Botanical Gardens at the top
Visit Te Papa
Key Features

Between harbour and hills
Wellington's geography has created a compact city. The central city, only 2 kilometres wide, is nestled between the harbour and the hills. Wild, untouched landscapes can be found within minutes of your city hotel.

The home of heritage
Wellington is home to many of New Zealand's most significant heritage attractions. Among these are the national museum Te Papa, Parliament and the National Archives, which displays the original Treaty of Waitangi.

A city with four flavours
Downtown Wellington is divided into four distinct quarters, making it easy for visitors to experience the different personalities of the city. The fashions, food styles and faces change with every quarter.

Key Tips

Wellington has an international airport, ferries connecting the North and South islands and an extensive train and bus network.
Wellington's compact size means it only takes 20 minutes to walk from one side of downtown to the other.
Visitors are often surprised by how much there is to see and do in Wellington - ensure you allow enough time.
Venture out to Kapiti, Hutt Valley and Porirua – each area has unique experiences to offer travellers.

WELLINGTON


Population: 423,800
City Area: 266km2
Wellington in 3D
Windfarm Near Wellington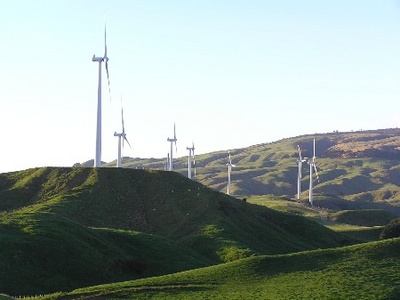 Reviews / Comments for Wellington
No reviews have been written write a review now.

Back to top

---