Whaka Sign Parnell Auckland
Ace Car rentals have created "Whaka-gate" and could not have got better exposure than the controversy their sign has caused in Parnell Auckland thanks to the few complaints.
The sign is a play on the place names in New Zealand that start in Whaka as it is pronounced 'fha-ka' and to anyone visiting New Zealand it is a bit funny. The Australians love saying these place names.
The sign has done its job Ace did not mean to offend anyone and has now taken the sign down.
What would the complainant's said about the comedy of legend kiwi comedian Billy T James. He would never get on TV now, and we would not have the legend of Billy T.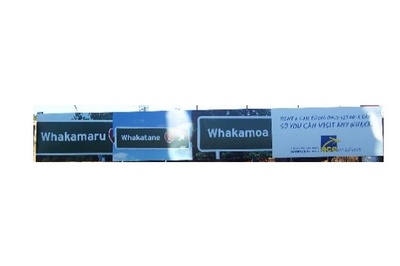 The sign says "Whakamaru, Whakatane, Whakamoa, Rent a car for only $25.00 a day and you can visit any Whaka".
The Meaning of Whaka
Whaka (pronounced 'fha-ka') is a common prefix to the Maori name of many New Zealand towns, rivers and mountains.
Reviews / Comments for Whaka Sign Parnell Auckland
No reviews have been written write a review now.

Back to top

---