New Zealand's Top Pacers and Trotters
All lists like this are subject to personal opinions and this list will differ depending on who you ask. New ZealandAtoZ.com asked an industry expert to give us their opinion of who they thought were the top New Zealand Harness Racing horses. The list is in no order.
Johnny Globe
Johnny Globe has won the greatest number of free-for-alls in New Zealand - 15.
Johnny Globe, the personality pacer of the Dominion over a long period, ran his last race when he finished fourth to General Sandy, Caduceus and Brahman in the NZ Pacing Championship at the Summer meeting of the NZ Metropolitan Trotting Club. This dapper little pacing gentleman made his final bow to the public when he was paraded at the New Brighton Trotting Club's on Saturday, December 1st, and he will spend the rest of his days at the stud on the property of his owner, D G Nyhan, at Templeton.
For the full information on Johnny Globe

Lordship
Lordship, a son of Johnny Globe, in the 1959-60 season became the greatest two-year-old winner of all time.
Lordship and Lookaway, as four-year-olds, are the youngest horses to have won the New Zealand Cup.

Harold Logan
The greatest handicap from which a horse has won the New Zealand Cup is 60 yards - Harold Logan in 1932 and Highland Fling in 1948.

Highland Fling
Highland Fling had in his last 11 starts of the 1946/1947 season, six wins and a third. Highland Fling's 1948 New Zealand Cup victory was the most fluent, smashing and affluent run ever staged at Addington.
His earnings at that stage of £32,920 were a national record for a standardbred or thoroughbred raced solely in New Zealand. His career record stood at 23 wins, six seconds, four thirds and three fourths from 70 starts. He was the fastest harness horse Australasia had seen.
Indianapolis
Only two horses have won the New Zealand Cup three times in succession Indianapolis in 1934-35-36 and False Step in 1958-59-60.

Caduceus
In 1960 Caduceus was the first New Zealand pacer to compete in the International Series sponsored by the Yonkers Raceway. He was taken there under contract to that body by his trainer-driver, J. D. Litten. In spite of his nine years, Caduceus showed he was the equal of the top American horses, winning the last race of the series, only to be disqualified. He also was leased to American interests and at 10 years was still winning races.
Caduceus, in winning more than £100,000, joins the Australian gallopers Tulloch and Sailor's Guide as the only horses bred in Australasia to have achieved this distinction.

Cardigan Bay
New Zealand bred pacer who was the first harness horse to win $1 million in North America.
Cardigan Bay was foaled at Mataura (near Gore) in the South Island of New Zealand. As you drive into Mataura from Gore, there is a sign on the road proclaiming Mataura as the birthplace of Cardigan Bay.
He began racing in New Zealand and his first stake money was won in a saddle pace on a grass track. He won all their major open class races including the New Zealand Trotting Cup and Auckland Cup ( from 78 yard handicap ).
Cardigan Bay even won a major event at Addington raceway in Christchurch while the grandstand was on fire (one photo of the race is considered one of the great iconic images in the history of horse racing). He also won the Inter-Dominion Championship final in Adelaide, Australia.
Cardigan Bay and War Buoy are credited with the greatest number of consecutive wins - 10.

Robin Dundee
Before the 1965 Forbury Interdominions, Robin Dundee had won 10 New Zealand races including the 1960 New Zealand Oaks and 1963 Forbury Park G. J. Barton Memorial, plus an Interdominion heat in Melbourne. Robin Dundee dead-heating with Jay Ar to win pacing Grand final in Dunedin, 1965

Blossom Lady
Blossom Lady went on to win 43 races - most of them in the hands of regular driver Anthony Butt - and earn $1,334,800 from 155 starts.

Her major wins were the 1992 NZ Cup and NZ Free-For-All, the 1991 Easter Cup, two Hunter Cups, six Inter-Dominion heats, the Monsanto Free-For-All, three NZ Standardbred Breeders Stakes, an Inter-Dominion consolation race and the Ashburton Cup. 'Bloss' won 35 races in NZ and eight in Australia. Eight of her NZ wins were sub 2:00 - 1:56 (1m), 1:58.9 (2000 mob), 1:58.6 (2400 mob), 1: 59.1, 1:57, 1:57.3, 1:58.7, 1:56.8 and 1:58.9 (all 2000m mobile).


Christian Cullen
a standardbred horse and one of New Zealand's best pacers. Named after the New Zealand international rugby union player, Christian Cullen, he won 22 of his 31 starts, and $NZ1,249,150 in prize money. He is best known for his season as a 4 year-old in 1998-99, where he won all of his 12 starts, including the New Zealand and Auckland Cups and the Miracle Mile. This lead to him being crowned Horse of the Year in New Zealand. He was retired from racing in February 2000, but has since fashioned a very successful stud career, including siring the New Zealand Cup winner Mainland Banner.
Stud information on Christian Cullan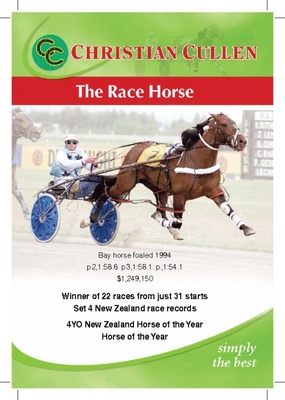 Lyell Creek
is one of New Zealand's best trotters. Also known as 'Creek The Freak', he had 113 starts for 56 wins, 15 seconds and 11 thirds. His fastest mile rate was 1.52.4 and he won $2,256,924 in stake money, which is an Australasian record for a trotter. Lyell Creek won the 2000 Inter Dominion Trotting Championship Grand final at Moonee Valley in Melbourne, taking home $295,000 for his efforts. He also won New Zealand's two biggest trotting races, the Dominion Handicap and the Rowe Cup, both on three occasions.
Reviews / Comments for New Zealand's Top Pacers and Trotters
No reviews have been written write a review now.

Back to top

---