NewZealandAtoZ reviews; Avon River Punt (Worcester Street)
A sunny day was the perfect setting for a look at the centre of Christchurch from the middle of the Avon River.
I turned up to the jetty just off the Worcester bridge at 2.35 and ask the man in the straw boater hat "when the next Punt was leaving that I could go?" "2.50 and the cost was $20 per person for a 30 minute punt," he said. That will do me, he wrote the time on my ticket and I drifted off, grabbed a snack and arrived back on time.
We were assisted into the clean tidy Punt. The Punt was easy to get into and did not move all over place and anyone could get in with no problems. Our well presented Punter/ Guide offered to take photos for people with cameras, which was a nice touch.
We then shoved off. Our punter introduced himself as Sam and asked some nice 'where are you from' type questions. He then started telling us facts about the buildings, bridges and parks on our journey; he was also fluent in Japanese which is a great asset to have in the tourist industry especially today, with a Japanese client on board.
I was told by someone who had gone punting many years ago all I would see was the banks of the Avon, not true, we got a good unique view of the city and some wildlife.
By the time I was just getting into the relaxing and informative trip it was time to turn around and we were back at the jetty and finished.
I enjoyed the trip and Sam was pleasant, who interacted well with his clients. All the staff and boats were well presented.
The only downside was that I wanted to go further and the 30 minutes seemed like 5. Maybe a 1 hour trip for $30 would be a good option, which would give you more chance to relax when you have either just arrived in Christchurch or your done all the walking for the day and want a break.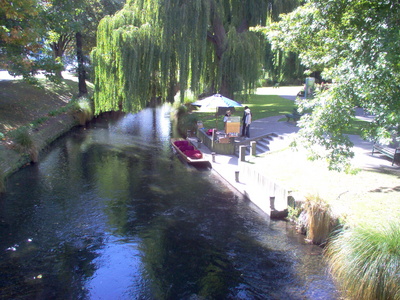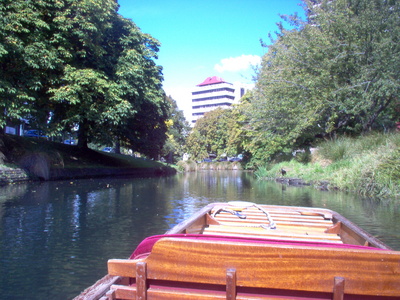 Reviews / Comments for NewZealandAtoZ reviews; Avon River Punt (Worcester Street)
No reviews have been written write a review now.

Back to top

---