NewZealandAtoZ reviews; Fleurs Place, Moraeki, Otago
We had heard a lot of good things about Fleurs Place at Moeraki and a visit was a must. Fleurs Place is a restaurant, cafe and bar right on the waterfront at the old jetty, in a small fishing village called Moraeki, about 10 minutes off the main highway 1 between Oamaru and Dunedin.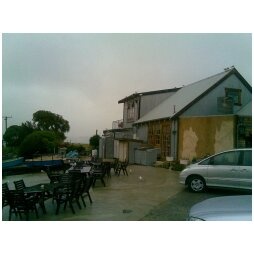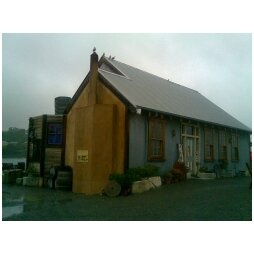 We turned up ready to look at the Restaurant like Gordon Ramsay after a bad night and an early start. It was a rainy Friday at 2.30 that we pulled up to the building. After avoiding the big puddles and finding a car park we ran in, to find a warm, packed building with great ambiance. There was action and chatter, but not to much, the whole feel was great. We approached the bar to ask for a table and we were told there would be a wait. I spotted on the bar a great looking scone that was a scroll shape with cream cheese and apricot in it, so I brought one for $4.50 to snack on (it was a good size). Not long after my scone we were escorted upstairs to a great window table over looking the sea, with the boats bobbing up and down. The waitress arrived quickly to take our food and drinks order. The food arrived in the right amount of time (pretty fast when we consider the place was full). All of us agreed the food was equal if not better than the high expectations we had, and the prices where inline with what you expect to pay for fresh seafood. Although seafood is what is promoted (being next to the sea) they do have steak and other non seafood meals.
We left contented and not "overstuffed" with food, my scone and the main was enough, but you would need 2 courses to satisfy a real hunger.
Fleurs Place is now so popular we would advise you to book ahead.
As much as we looked for some negatives about Fleurs we could not find anything except puddles in the car park, not a concern if you want good food and great place to eat it with friendly, courteous and helpful staff.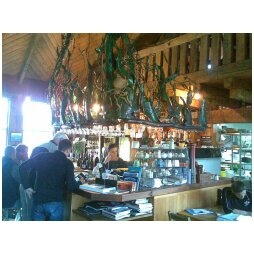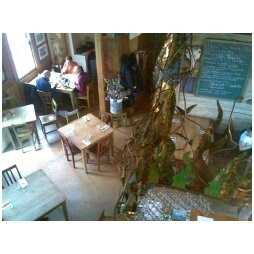 Fleurs Place website for more information.
Reviews / Comments for NewZealandAtoZ reviews; Fleurs Place, Moraeki, Otago
No reviews have been written write a review now.

Back to top

---