NZAtoZ reviews; Warbirds over Wanaka 2008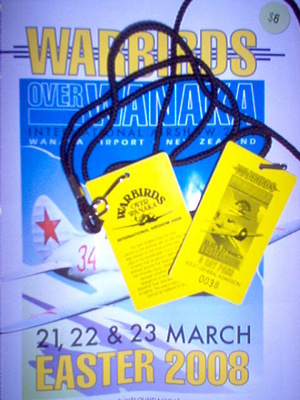 We always wanted to go to the Warbirds over Wanaka Airshow and this year the chance came. We had talked to a few people and they told us to expect accommodation shortages, long traffic queues, lack of food stalls but a great aerial spectacle.
We brought our 3 day passes at $140 (a saving of $20 if you went all 3 days) well in advance and started looking for accommodation.
We found out that most accommodation providers in Wanaka had hiked their prices up for the weekend some double the normal price. This is just rude and unethical, can the local café double the price of a coffee for the weekend, NO! This has to be something the consumer's institute (New Zealand's consumer watchdog) should look into.
We did find an apartment for two called the Beaconridge Apartment a couple of minutes drive from the main street at $180 per night $100 cheaper than the next cheapest. We booked in.
The time came quickly for our trip. We drove down on the Thursday past the event and noticed signs saying "Car Parking, $40 Adults and $10 Children" I then questioned my partner about the cost of car parking. She said "I think it may be the admission cost for Friday, because not many children would be driving cars", "good point, I said". A bit confusing, does that mean if you don't need to park a car you can get in for free? Is it just a way to avoid any bylaws with respect to charging people to get into a public airport? Only the organisers know.
We got to our accommodation which was fantastic with great views over the lake, had some dinner and went to bed.
The next day we set sail about 10.30 approached the Air show and hit the queue of traffic, but the wait was only 15 minutes which was good. When we left the show at about 2.00 there was no one waiting.
We parked the car and walked 4 minutes to the gate which was also fine for an event of this size. The earlier you get there the closer you get to the gate. People in Motorhomes must have been there very early, if not stayed overnight. Maui Motorhomes had a separate area right in the middle of all the action.
We walked around all the stalls and took photos of all the displays at a leisurely pace watched the planes practice for the next day official show. It was good because we could buy all our souvenirs ($25 tee shirt and $25 cap, normal prices) with not to many people around. We took a bag with food and drink's in, but found a great variety of food stalls, from the good old hotdog to venison burgers escargot (snails) and whitebait. We left having a nice relaxing day.
The next day we joined the traffic line at and it took about 30 minutes to get in. They close the whole road off on the Saturday and Sunday so when they direct you into the right lane stay in that lane because you get in a lot quicker, but you park on the other side of the road so an extra 2 minutes of walking.
We took in a small bag of extra clothes, food and drinks with a couple of chairs. We set up camp near the runway on a little hill with a good view of everything. The place had people everywhere including many families but not too many people to be annoying. Everyone had plenty of room.
First toilet stop of the day and the toilets were a couple of minutes away and as usual there was no line at the men's but a 20 person line at the woman's. They obviously don't have a lady organising toilets for the event.
Back to the Airshow, this is where the event is great. You are right in the action everyone was having a great time, then when the F1-11 Royal Australian Airforce bomber flew past you felt your whole body shake and the sound was brilliant. We saw a couple of parents who had ear muffs on their children. Those poor kids, missing out on one of the main components of an airshow, the sounds. From the sounds of the slow moving WW1 fighters to the great sound of the P51 Mustang up to that F1-11.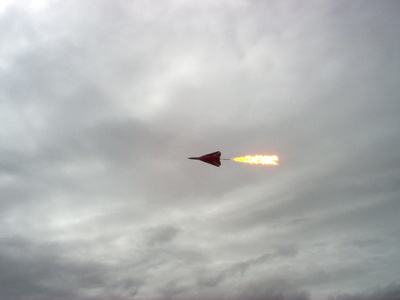 F1-11 Royal Australian Airforce bomber wows the crowd
Time went fast and before we knew it 6 hours of airshow was over it left us wanting more, more planes, more action. We walked back to the car, it took only 10 minutes to get back to the open road.
We questioned the 3 day pass option but in hindsight thought it a good idea, Friday for shopping, photos and getting a feel for the event. Then Saturday or Sunday for the show (they run the same show on both days, weather permitting) There are less people there on Sunday. But if you plan just to go Sunday it may be an awful weather day so things could be cancelled. That's why if you get a good day on Saturday, go and leave Sunday as a back up day.
The Gold 3 day pass was a bit more expensive at $365 which gave you a cap, badge, food voucher, access to your own lounge and a seat in the grandstand right in front of all the action. If you were travelling a long way maybe go with this, but if you can bring in chairs, tables and tents we suggest you just buy the 3 day pass.
There were motorhomes parked high on a ridge behind the airport that got a free show, but it is not like being right next to those planes as they buzz the runway. If you are in Wanaka pay the daily admission ($60 Adults $10 School Children) and go into the show.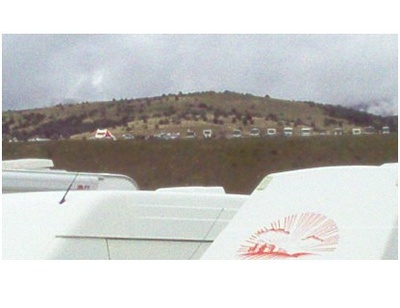 Motorhomes and campervans parked on the ridge above Wanaka airport
The military, car and fire engine displays were good and gave you something else to look at. I was looking for somewhere I could get a photo in the cockpit of one of those fighters, but not at this airshow. The stage show with girls singing old war songs was also entertaining.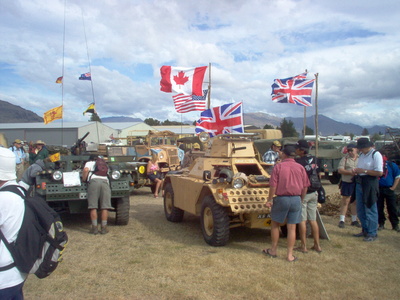 Military display at Warbirds
The crowd was a good family crowd with no trouble and kids having good clean fun. One family beside us had to go home because their child was a bit bored, dad looked disappointed, maybe a better children's area with bouncy castles and some other kids stuff may have been missing.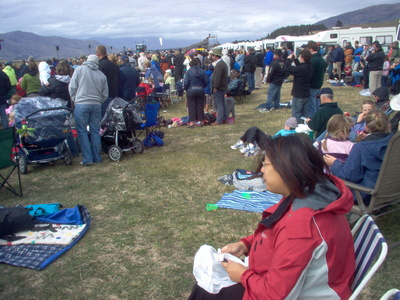 Families, and space to sit at Warbirds over Wanaka with the grandstand in the background and runway to the left
The stalls were ok but it was a cross between an airshow and a Sunday market. We would have liked to see either only airshow related stalls or more stalls with everything; it was a bit of both. Loved the model plane, plane, car, army, navy and airforce related stalls and attractions.
Summary
If you are from overseas get the Gold Pass and enjoy the grandstand seating. If you are from New Zealand a 3 day pass is fine (or do it day by day) bring in your own chairs and other needs.
Get in early for the best spots but if you don't, there are no bad places.
The traffic is not as bad as you may have heard.
The accommodation is inflated by up to double for the weekend so book early to get the accommodation providers who have ethics.
Use Friday to shop and take photos of the static displays.
Plan to go Saturday and use Sunday as a back up day if the weather is bad.
Take the family, the crowds are good with no trouble.
The Warbirds over Wanaka was a great show, the sounds, smells and sights were worth the money and we will be back.
Reviews / Comments for NZAtoZ reviews; Warbirds over Wanaka 2008
No reviews have been written write a review now.

Back to top

---