Great Walks of New Zealand
New Zealand's 'Great Walks' are world-renowned. These are the Milford Track in Fiordland, the Routeburn Track, the Kepler, Stewart Island's Rakiura Track, the Heaphy Track, Abel Tasman Coastal Track, the Tongariro National Park and Lake Waikaremoana. But there is more to walking or hiking in New Zealand than these. There are more than 150 walkways around the country, including heritage trails, with walks of up to a day's duration to be found even in urban areas. All New Zealand cities have great native bush walks nearby, meaning you're never far from peace and relaxation. Whatever a person's fitness level, there's a suitable walk on offer in a country of people that relishes the opportunity to get outdoors.
Great Walks are the Department's premier walking tracks, through areas of some of the best scenery in the country. The huts and tracks on the Great Walks are of a higher standard than other tramping tracks, and many of the Great Walks have booking systems to manage visitor pressure.
These are nine specific New Zealand tracks the Government promotes. By picking a few tracks, which are relatively easy to maintain and keeping the track in a safe condition that anyone can walk and enjoy. The Department of Conservation is able to recommend these tracks to the public. This policy has been remarkably successful. Tourist publicity has its own momentum and the more popular tracks are full to overflowing. Huts accommodating 60 or more people; wardens; one way restrictions; commercial groups of 40 people: the more people that do a particular track, the more people want to do it. Tracks are maintained to a standard that all possible hazard and discomfort is minimized. Over twelve thousand people walk the Milford track every season.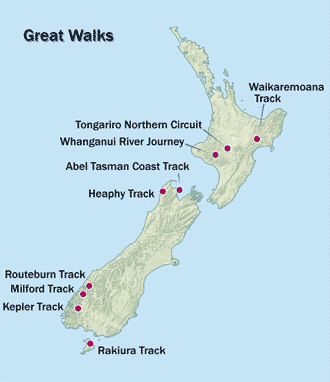 Abel Tasman Coastal Track
The Abel Tasman Coast Track is a 51 kilometre, easy to moderate walking track that passes through a picturesque landscape of coastal forests and golden sandy beaches. All streams are bridged and most people can walk it in 3 - 5 days with plenty of time to explore.
Reviews / Comments for Great Walks of New Zealand
No reviews have been written write a review now.

Back to top

---