NewZealandAtoZ reviews; Christchurch City Tram
When you arrive in the centre of Christchurch you will notice a few 1920s trams that roll past Cathedral Square.
I decided to go for a ride and looked for the nearest tram stop to me which was in the square. I waited with a few other people to buy my ticket from the ticket seller ($15 for a two day, hop on and off as many times as you like ticket).
The tram arrived and we all got on to be greeted by a friendly driver called John. The tram was in great condition and presented in a clean and tidy state, apart from that someone left some big road cones by the exit to the tram which everyone had to avoid trying to get off. Everyone found a seat and we were off. John started his commentary from the start with interesting facts and things to see, the sound system was a bit scratchy, combined with the typical fast New Zealand accent made it alright to hear, but those with English as a second or third language may have "got lost in translation", a better system would have made it better.
There are many stops to get on and off at. When you get on at other than the first Cathedral Square stop you pay the driver.
The Tram look around 30 minutes to do the short loop of a few tourist areas of Christchurch city centre including the Art Gallery, Arts Centre, Botanical gardens, Museum, Christs College, Cramner Square, Casino, New Regent Street and Cathedral Square.
The tram is not really a transport need as everything in Christchurch city is within walking distance but it is a really good guided tour.
It was worth the money and would take a ride as soon as I got into the city so I could get an overview of the city with the commentary. After the lap I would then decide where to get off to start my sight seeing by foot and tram.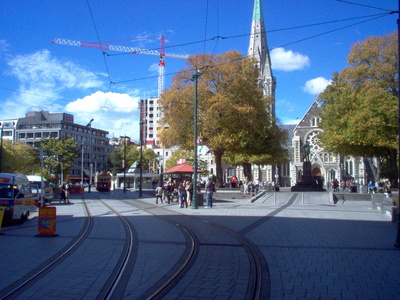 Cathedral Square tram stop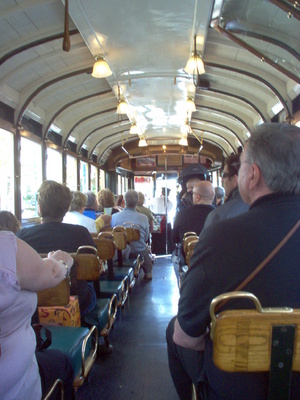 Inside the Christchurch City Tram
Reviews / Comments for NewZealandAtoZ reviews; Christchurch City Tram
No reviews have been written write a review now.

Back to top

---