NZAtoZ reviews; Jetboating in Wanaka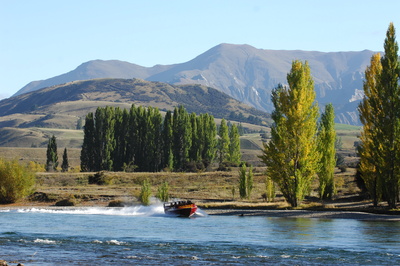 We went for a jet boat ride in Wanaka with Clutha River Jet. After booking the day before we arrived at the log cabin on the waterfront (its not really a log cabin, but looks a bit like one, it's a weather board cabin) We were greeted with smiles, given a life jacket and onto a 10am, 1 hour boat ride for $95.
The boats are smaller than the bigger industrial style of some Queenstown companies but we found this a bit friendlier and personal. The driver was James who lived in the area most of his life and had been a jet boat driver for 4 years. The ride across Lake Wanaka to the mouth of the Clutha River, could be a bit boring when you just want to get into the excitement of the spins and thrills, but James filled us in with some great information about the area and a few moves in the boat to keep us all awake. The trip across the lake did not feel like 15 minutes. What a great sight the mouth of the Clutha River is, great autumn colours and clear water you can fish spot in.
The Clutha is New Zealand's biggest river in terms of water flow, so you get to see where it all starts.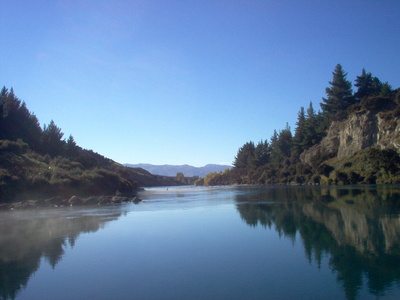 The Mouth of the Clutha River, Lake Wanaka
After passing a fisherman, who don't get along with jetboat operators (for obvious reasons) the action started. Darting between rocks and the trees on the banks was great fun then the occasional jet boat spin to throw some water over the boat was brilliant. The kids (and adults) on our boat could not wipe the smiles off their faces. James also knew the point when to "button off" and let the passengers regain stomachs and composure.
After the fun we turned around went back up the Clutha across Lake Wanaka and home, but the trip ended with a couple of spins before we parked up.
In the log cabin we were shown photos that had been taken on the river by Garrick. We had the option of buying a bunch of great shots on disc for $25 (which we did).
We liked the personal feel of the Clutha River Jets operation and would recommend a trip while in Wanaka. Take your warm clothes, and a beanie on the head. It gets cold on the winter trips. You get a bit wet, but not to much to be uncomfortable.
A great balance of fun, scenery and great information.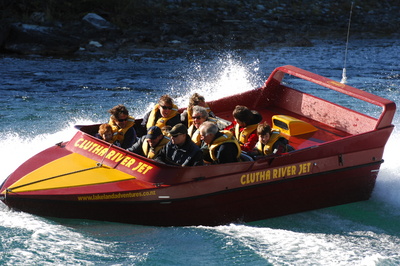 Reviews / Comments for NZAtoZ reviews; Jetboating in Wanaka
No reviews have been written write a review now.

Back to top

---