NZAtoZ reviews; Paradiso cinema, cafe, bar, Wanaka


We had heard about the Paradiso cinema and thought it was worth a visit.
After the Warbirds on Friday we stopped in to find out how it all works. We decided on seeing "No Country for Old Men" on Saturday night 6.45. We were going to pay but the lady took our booking with no money changing hands, just our word we were going to be there. This is the New Zealand "we trust people" way of life. She said if we were there about 45 minutes before the movie started we could have dinner before and if we didn't finish we could take it in with us, great stuff!
We turned up at 5.45, paid for the movie ($13 for adults, good price for a tourist town, any town really)
The staff member who served us on Saturday night told us about the intermission break and how you could order food for that break. My partner asked about the home made ice cream but the staff member informed her that it was not pasteurised, after noticing my partner was pregnant, that was great work. Around the same time she was explaining the plots to two movies to someone on the phone that was unsure on which one to attend. Try and get that service at your local big multi-super-massive-plex.
Both the ladies who served us on Friday and Saturday were very helpful and cheerful, they look to enjoy life and their work.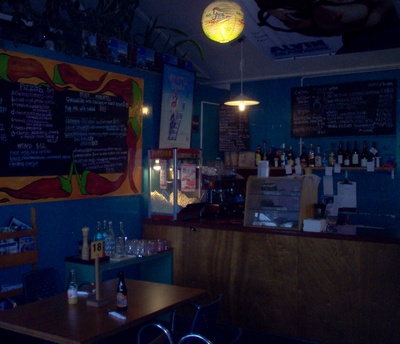 Paradiso cafe bar area
We ordered dinner, I had a gourmet pizza and my partner had the Lasagne both of which were good and well priced the pizza was $19 and Lasagne was $18. The Paradiso also serves only local beers from the Wanaka area, so I gave a Cardrona Gold a try, not too bad.
Movie time, the doors opened. The sitting before us came out with their rubbish in hand to deposit in the bins. We looked in the doors and saw an old Morris Minor, loads of old 70/80s style couches, old movie theatre seats and some airline seats (Total theatre seating for 80 people). Not a bad seat in the house.
This is one of the only cinemas where sitting at the front is not a bad thing. We sat in the front row on an 80's soft 2 seater couch. It felt like my lounge at home, only with a massive screen, all I needed was a footrest.
At the intermission the doors opened and the smell of freshly baked cookies wafted in. Most people drifted out, brought a snack or drink then stayed in the café area or went back into the theatre.
After the movie, the doors opened we picked up our rubbish dropped it in the bin and headed home.
The whole food, drinks, movie and snacks cost about $80 for two and a full fun evening was had by all.
If you are in Wanaka, and have a spare night go along, you won't be disappointed.
We loved the tips jar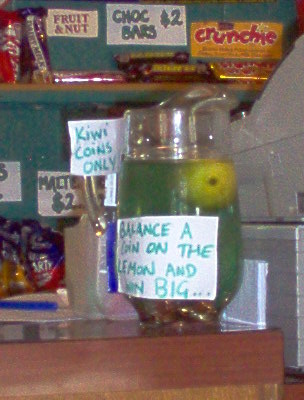 Reviews / Comments for NZAtoZ reviews; Paradiso cinema, cafe, bar, Wanaka
No reviews have been written write a review now.

Back to top

---