NZAtoZ reviews; Garage Project Brewery Wellington
This was our favourite brewery at Beervana, so we decided to visit their home base in Aro Valley Wellington the next day.
Everything in Wellington is walking distance from the central city, so we took a stroll.
After reading more we found out that Garage Project is a "rock star" of the New Zealand craft beer scene.

As soon as we arrived the staff approach us and asked "if we would like a free tasting", oh yes! After many great drops of amber gold I found my number one, Pils N Thrills.
After chatting to some Australians that had popped over the ditch for Beervana we ran into a Garage Project owner, bailed him up, but he was happy to talk about his passion, the beer.
He came across as your typical understated "Richie McCaw" (All Blacks Rugby humble captain) type character.
When arriving and taking in their operation and tasting the beers, you can understand why people are calling them rock stars.
They have nailed everything!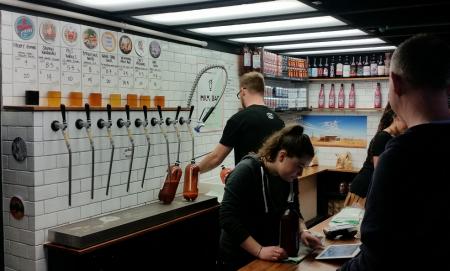 Location: cool
Staff: happy, friendly and fitted the label
Beer: great
Selection: great
Branding: great
Merchandise: great
We could have settled in for the day, but things to do and people to see, bugger.
Brought some beer and tees, then left the building.
We think the future is bright for Garage Project.
A must visit in Wellington.
Reviews / Comments for NZAtoZ reviews: Garage Project Brewery Wellington
Rating Averages
Back to top

---