NZAtoZ reviews; Beervana Wellington Westpac Stadium 2015
Imagine Comic con, with superheros replaced by beer and costumes with beards, no underage people, and you have Beervana.
Tickets are $46.50 each and we looked forward to some tasty craft beers in the craft beer capital of New Zealand. The ticket was text/SMS to us, and if your phone has a hissy fit then the ticket goes missing ticketek can text you a new one, so that was good news (no further comments on that)
Wellington is a great place for this sort of event, easy to walk to the event from town and right by the train station. After you can walk to the many great craft beer bars in the city.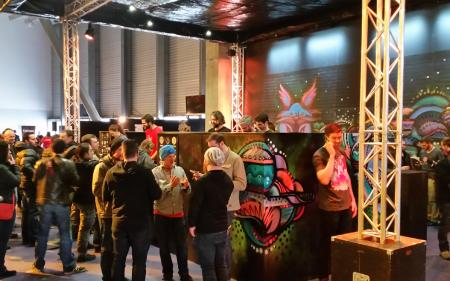 We arrived at the event for our Friday 11am -4pm session, and flooded in with the other middle aged, black clothes wearing males, plus a few ladies. If you were going to beervana to find your first or second wife you may be out of luck but... if you were looking for men there were many interesting specimens to choose from, fairly metro, hipster and quite possibly cashed up.
You received your wristband, tasting guide and plastic glass, and you were off to the Bank of Beervana to load money on that electronic band by cash or Eftpos (it cost a "buck" each time you put money on the wristband) which was a bit of a downer as you just paid to get in, now they want to charge you to spend your own money (seems a bit cheap, but its the principle). I think its based on the Jetstar "add on" model.
It costs a "buck" to get any unused money off the wrist band, if they really need the money maybe just make it $2 to get your money off and get rid of the $1 charge to put the money on?
Anywho, my band was full of money and I was off, you can buy either a 75ml taster for $2.50/ $3.50 or 250ml for $6/$8, perfect sizes.
The guide was great, you could make tasting notes and it had loads of information about the craft beer World. Beervana teamed up with Uber to give you a $20 ride somewhere (very responsible Beervana).
We wandered around the concourse of the Westpac Stadium and as we got further around there were less and less people, smokers did not venture to far from the main door as it was a long walk back to get their fix.
I also, in a funny way felt a bit sorry for the Australian bar at the very end of the Beervana concourse World and often had no one there.
But my favourite, Garage Project had prime position with a great stand and always had queues. I found out that they have been a main supporter of Beervana over the years and deserve their great placement.
One stand was giving away free beard trims with every full glass brought.
There were free pens on lots of tables, so you could score your favourites or you could download the Beervana App to do the same. Staff were walking around asking if you needed water all the time. Loads of toilets which are needed, once you "break the seal" you are always looking for your next toilet stop.
There was some live music and a great selection of interesting food to match the beer.
The session time was the perfect length for us, and very good length for one of our party (the bars stopped serving at 3pm, this gave you an hour to drink your last liquid gold).
The event seemed to be very well run, we saw no people wobbling while walking, no police and no trouble, a "hats off" to organizers there.
The only downsides were the $1 charge to load money and the actual concourse location, maybe some sort of indoor/outdoor, hall/ grass area (which may make it a summer event) would be perfect.
Very professional, very good and a must if you are even a bit interested in beer.
Enjoy your Beervana experience.
Here is an article that was on Stuff about Beervana
Reviews / Comments for NZAtoZ reviews; Beervana Wellington Westpac Stadium 2015
No reviews have been written write a review now.

Back to top

---