NewZealandAtoZ Reviews; McCashin Brewery, Nelson
We found a small bit of gold in Stoke.
We were in Nelson and were looking for a place to have Sunday brunch. Drove around Nelson but nothing jumped out and said "eat here" to we started heading out of town towards Richmond then I had a thought.
The day before I drove past a small market that looked like it was in front of an old factory. I stopped, and on closer inspection found a wood fired pizza oven outside the front door and a very trendy café/restaurant inside. It was the McCashin Family Brewery.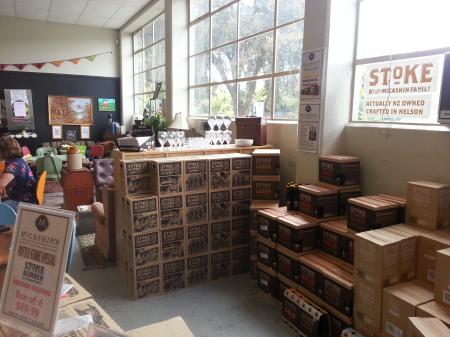 So after the drive around on Sunday my partner and I decided to have brunch there, as it was on the way to Richmond in Stoke.
The cafe is a great place to look, buy, smell, read, watch and listen. You can buy one of many of their award winning Stoke beers, ciders and other alcoholic delights. You can go on a brewer tour for a modest charge. The music playing was light and tasteful, absolutely perfect for the setting. There is a resident artist with some great pieces around the walls to get you thinking.
We both decided to have a breakfast. I ordered the bacon and eggs with my partner having eggs benedict. After a read of the paper and a relax, breakfast came out after a bit of a wait, but what arrived did not disappoint, both meals were great and for just over $10 (What great mushrooms on mine). Each were very well priced (most breakfasts like this are around $18). My tea was ok, I wish they used tea leaves instead of the normal bag, but that is me being fussy, I don't like tea bags! My partners Chai Latte was perfect.
One of the good things about the wait was that the owners were there sitting relaxing for a while and did not get their food before us, so top marks for that.
We brought some Nelson made potato crisps and "hit the road".
You must stop here for whatever reason, next time we are in Nelson we are going to try the wood fired pizza and take a brewery tour.
Loved the place!
Reviews / Comments for NewZealandAtoZ Reviews; McCashin Brewery, Nelson
No reviews have been written write a review now.

Back to top

---