NewZealandAtoZ reviews; Larnach Castle (Larnachs Castle)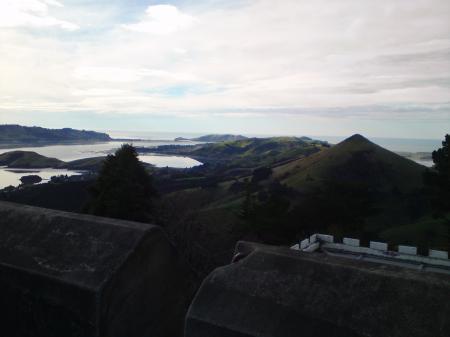 A walk back in time awaits you as you wind your way up the road to Larnach Castle, in the middle of the Otago Peninsula.
Larnach Castle (or Larnachs Castle as some call it) is a New Zealand landmark, with wonderful panoramic views of the harbour and city. It is not a castle as you would picture in the United Kingdom but it is a magnificent home that captures a slice of New Zealand history. The Larnach family's story is as tragic as the history of the castle.
It is a great place to take your time and unwind. Take in all that is spectacular about the place from the large well maintained gardens (The Larnach Castle gardens are one of only five gardens nationwide to have been given the rating of "garden of international significance" by the New Zealand Gardens Trust) to the castle itself. You can have a cup of tea, lunch, dinner in the castle or spend the night.
When you walk around the castle it gives you a spooky feeling, you think the history is going to jump out of the walls and grab you (it is reported to be haunted).
In 1994, a play about the Larnach family tragedies, titled "Larnach - Castle of Lies", was once performed by Dunedin's Fortune Theatre before 100 invited guests in the castle ballroom.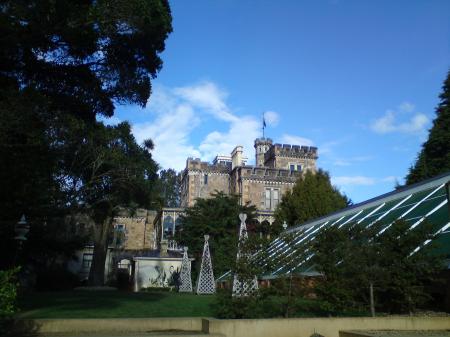 "It was a night to remember. As the guests arrived a terrible storm blew up from nowhere. The smoke from the fires blew back down the chimneys so that you couldn't see - and your eyes hurt. Hail crashed on the iron roof so that you couldn't hear. Doors mysteriously opened by themselves and it got very cold. In the play - just as Larnach shot himself there was a blinding white light. Afterwards at supper people were talking about the lightning strike as Larnach held the gun to his head. I said `Oh no that was stage effects.' We asked the stage manager. He said `It was none of our doing, it was lightning.' I think that Larnach was present that night. He didn't like the play." -- Margeret Barker (Co-owner).
The current owners have done a fantastic job restoring the castle. We think it is worth a visit.
Reviews / Comments for NewZealandAtoZ reviews; Larnach Castle (Larnachs Castle)
No reviews have been written write a review now.

Back to top

---