NewZealandAtoZ reviews; Royal Albatross Colony and the Armstrong Disappearing gun, Taiaroa Heads, Dunedin.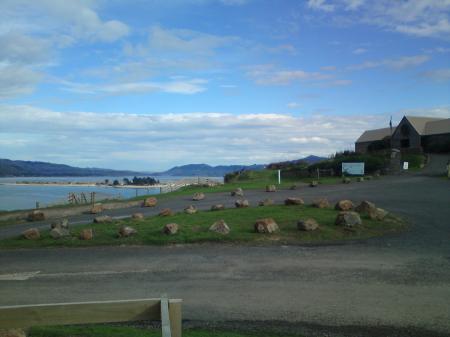 The Royal Albatross Colony at Taiaroa Head, on the tip of the Otago Peninsula, New Zealand, is the only mainland breeding colony for any albatross species found in the southern hemisphere, we went for a visit.
It is a slow careful drive from Dunedin City, but you get to take in the sites of the harbour. There are some great little towns to stop at on the way if you need a relaxing cup of tea. You could also include your Larnach Castle visit on this trip.
After the 50 minute scenic drive you arrive at the end of the Otago Peninsula with nowhere else to go.
A nice modern facility greets you. We walked in and booked for the next tour to see the albatross's, Fort Taiaroa tunnels and the Armstrong disappearing gun. You can just take the tours separately but I think while you are there do them both.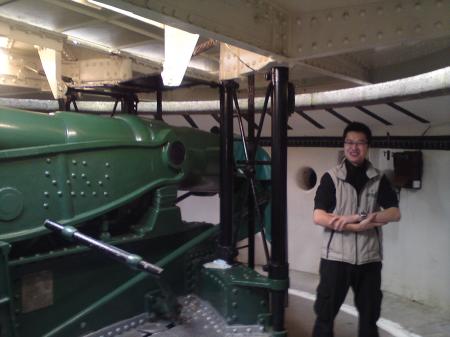 After a short film about the birds and the area at the main building we were escorted outside up a bit of a hill to the viewing building (with great views of the harbour) to see the albatross and albatross chicks. The tour guide told us everything we needed to know about the albatross, but unfortunately the morning we were there no adult birds came to visit the fluffy baby birds in their nests. After seeing the chicks move around a bit we left and headed to the underground tunnels of Fort Taiaroa.
This is a very interesting piece of New Zealand history and not only does the tour guide know about birds but is a bit of an expert on the Armstrong Disappearing Gun, which now has worldwide recognition as the only one still in working condition, in its original gun pit. (Don't try and invade us Australia). There is a little museum area in the tunnels with interesting facts and displays.
After the gun tour you head back down to the main building where you can buy your souvenirs or food.
We enjoyed the tours, and it was just bad luck we did not see any soaring albatross but were impressed by the staff and our tour guide.
If I was doing the trip again I would visit Larnach Castle for lunch, then drive out to the Albatross colony, and see the Yellow Eyed penguins at around 4.30.
Reviews / Comments for NewZealandAtoZ reviews; Royal Albatross Colony and the Armstrong Disappearing gun, Taiaroa Heads, Dunedin.
No reviews have been written write a review now.

Back to top

---