NewZealandAtoZ reviews; Riverstone Kitchen Oamaru North Otago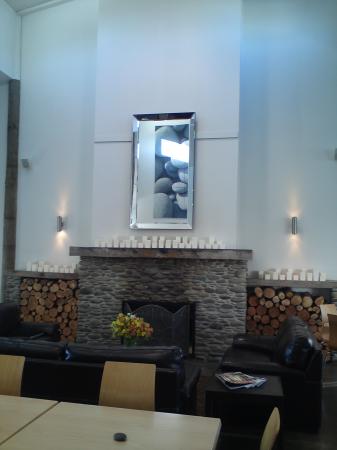 The Riverstone Kitchen is located on the Waitaki Plains, 12km north of Oamaru in North Otago and opened in 2006.
The Riverstone Kitchen won the Cuisine Magazine restaurant of the year 2010
We heard about this Restaurant from friends in Oamaru and decided to stop in. After getting out of the car you see curio shops in the style of an old western town with all sorts of house hold odds and ends. If you are claustrophobic you may not last too long in the shops as they are cluttered. I got a stuff overload so had to leave and move to the modern clean uncluttered dining building.
When we went into the restaurant what caught my eye outside was a great children's play area. It had a large fort, flying fox and everything else to keep your children happy for hours, in a safe environment. We left our son playing there and relaxed in the sun on the deck.
As we heard about the restaurant in Oamaru we had already just eaten so we got one main to share. The waitress was very happy to do this and did not put any pressure on us to order more.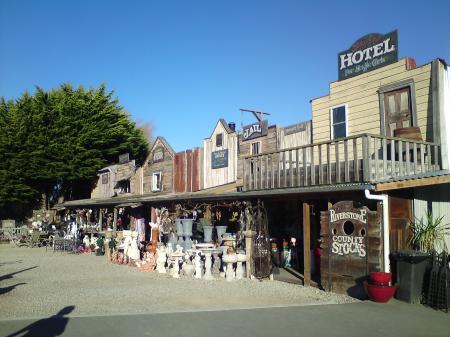 We had the Lamb pie with mash pea and potato. It was all fantastic, I won't go to silly, but possibly the best pie I have ever tasted.
The Restaurant staff were friendly and helpful, with a menu that was well sized. All the dishes looked good on paper and even better as the waitresses brought them out to the other diners.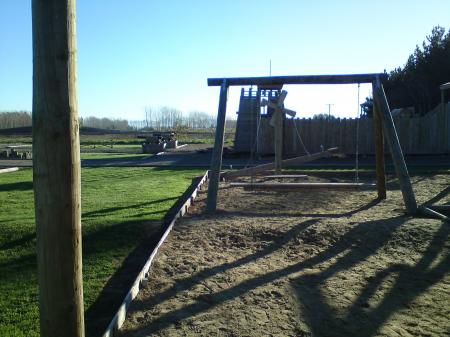 The meals were well priced and well sized. The whole restaurant had a relaxed atmosphere that was a pleasure to dine in.
I can see why they won the best restaurant award.
They sell lots of their homemade condiments and have a cook book.
Stop here to break up your journey and you will not be unhappy, you could even make it a family day trip destination.
Reviews / Comments for NewZealandAtoZ reviews; Riverstone Kitchen Oamaru North Otago
No reviews have been written write a review now.

Back to top

---